The LearnDash Paid Memberships Pro integration enables you to connect your courses to memberships that you set up in Paid Memberships Pro.
Despite its name, the core version of Paid Memberships Pro is actually free (but there are over 60 add-ons if you upgrade to premium).
Paid Memberships Pro can also handle the ecommerce & checkout experience for you, allowing you to bundle multiple courses into a single membership, and automatically granting & removing a member's access to a course based on their membership status.
LearnDash has some content protection built-in, but Paid Memberships Pro will expand upon that and provide a lot more ways for you to manage memberships, subscriptions & more.
NOTE
Please install & activate the free Paid Memberships Pro plugin before you set up the LearnDash integration. The core plugin is free, and it comes with 6 popular payment gateways. There are over 60 add-ons available if you upgrade to their premium version.
Why Use Paid Memberships Pro?
A few reasons why you might want to use Paid Memberships Pro in conjunction with LearnDash:
create membership levels, and assign a course (or courses) to different levels
offer coupons or discount codes for your courses
sell courses in a bundle (i.e. one price provides access to multiple courses)
sell access to courses as an ongoing subscription
View all Paid Membership Pro features »
Installation
Option 1: Add-ons Menu (requires an active LearnDash license)
In your WordPress admin area, navigate to LEARNDASH LMS > ADD-ONS
Locate the Paid Memberships Pro for LearnDash add-on
Click Install Now
Click the Activate Plugin button
Option 2: Manual Upload
Download the plugin file (must be logged in to download)
In WordPress, navigate to PLUGINS > ADD NEW
Click Upload Plugin
Browse for the .zip file you downloaded in Step 1
Click Install Now
Click Activate Plugin
Create a Membership Level
Before you can assign a LearnDash course to a membership in Paid Memberships Pro, you need to:
create a course
create a membership level
We'll assume you have already created a LearnDash course.
To create a membership level in Paid Memberships Pro:
Navigate to MEMBERSHIPS > SETTINGS > LEVELS
Click the Create a Membership Level button
Fill out the required information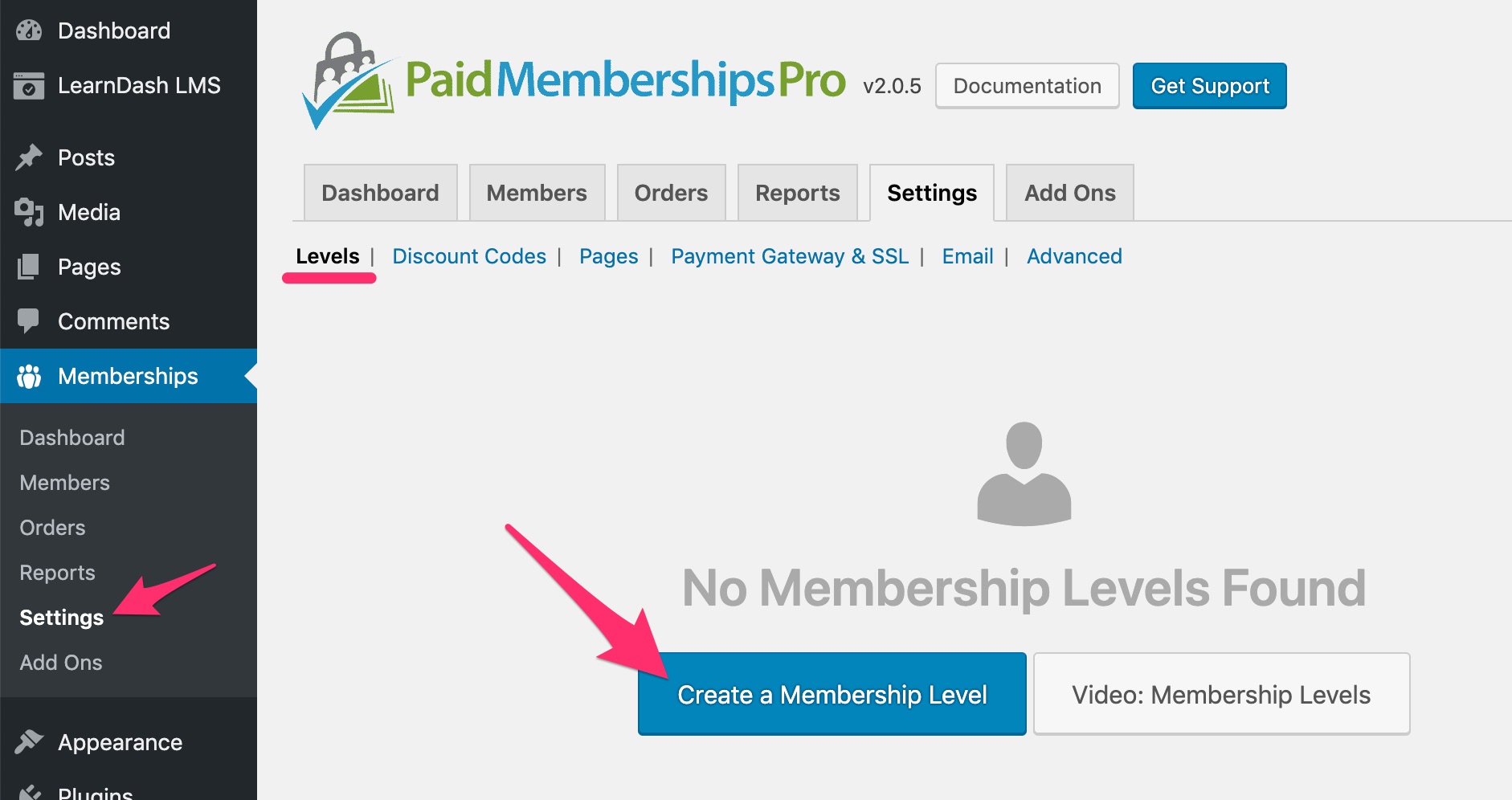 For more details, check out the video in their official documentation.
Before you finish this step, please read the next section on assigning a course to your membership level.
Assign a Course to a Membership Level
Before you save your new membership level, you'll want to associate your LearnDash course(s) with it. You do this on the same page as you're creating it.
This will mean that once a user purchases (or simply gains access to) the membership level, they will automatically have access to the course(s) as well.
On the MEMBERSHIPS > SETTINGS > LEVELS page…
Scroll down & look for the LearnDash heading
Next to Courses, choose the course(s) that you want to assign to this membership level
NOTE: You may link one, or multiple, courses.
Now you're finished creating the membership level & assigning your courses to it. Be sure to click the "Save Level" button at the bottom to save your changes.
Alternative Method
Assigning a course to a membership level is most easily achieved at the time you're creating your membership. However, you can also control course access via the course page itself.
Navigate to LEARNDASH LMS > COURSES
Click on the course you'd like to assign to a membership level
In the sidebar, look for Require Membership
Check the box next to the membership level that this course should be assigned to
NOTE
These two methods are synced up. This means, if you change the setting in one place, it will automatically be changed in the other. So just use whichever method is most convenient for you.
Set Up Your Course
After your membership level is set up in Paid Memberships Pro, you'll need to make a few adjustments to your LearnDash course.
Navigate to LEARNDASH LMS > COURSES
Click on the course that corresponds with a Paid Memberships Pro membership level
Click the Settings tab at the top
Under Course Access Settings, look for Access Mode
Set this to Closed
In the Button URL field, enter the URL to your Paid Memberships Pro "Levels Page"
You can find the URL to your "Levels Page" in the WordPress admin area by going to MEMBERSHIPS > SETTINGS > PAGES, and click on the "view page" button next to "Levels Page."
Now when people visit your course page, the "Take this Course" button will send them to the corresponding "Levels Page," where they can add the membership level to their cart & complete the checkout process.
Retroactive Member Access
If you already have Paid Memberships Pro installed with live membership levels and members, then after activating Paid Memberships Pro for LearnDash there will be a prompt to run retroactive member access process.
Running this process will enroll your existing membership into the LearnDash courses that you associate with your membership levels.
If you are not ready to run this process, you can close the notice. When you are ready to run the retroactive process:
Navigate to MEMBERSHIPS > LEARNDASH
Click the Run button
Please allow time for the process to fully complete before moving to another page.
FAQ
Which payment gateways can I use with Paid Memberships Pro to sell courses?
Please see the Paid Memberships Pro documentation for a list of supported payment gateways.
Can I use other checkout methods alongside Paid Memberships Pro?
No. If you're using Paid Memberships Pro to manage course access, you cannot use any other payment gateway or ecommerce integration to manage course access.
Can a user have multiple membership levels at the same time?
No. Please see Paid Membership Pro's documentation for more information & workarounds.
---
You might be interested in our other membership plugin integrations:
Was this article helpful to you?