LearnDash 3.0 is more than just an update, it's an entirely new standard for online courses.
In the world of software, there are updates, and then there are game-changers.
This is the latter.
After many months of research, design, and development – you now have access to the most cutting-edge online course platform on the market. Not just in WordPress, but across the entire e-learning industry.
LearnDash 3.0 (or LD3) is a fundamental shift in how online courses are both delivered and created. Long overdue for this industry in my opinion.
It would be near impossible for me to discuss everything that is new in LD3 (and let's face it, you probably would rather just experience it yourself). But join me as I show you some of its highlights! 🙂
Visually impressive courses that learners will love and that give your brand a professional, polished image.
Here's a hard truth: you can have amazing course content but if its presentation is lack-luster then it doesn't really matter. Online course plugins and hosted course offerings are lazy (and sometimes reckless) in this area.
Either the visual experience is too minimal with just plain-text, and therefore not contributing to an engaging learning experience.
Or, the templates are over-designed. Clashing with the rest of the website and becoming too distracting.
Both scenarios are lose-lose. Your students have a poor learning experience and your brand suffers for lack of professionalism. If you are selling courses then this could even lead to higher refund rates.
LD3 solves this delicate balance for you.
We partnered with instructional design experts 3.7Designs to bring you a course experience like no other.
Every template is purposely designed to make your content shine, but at the same time help keep your learners engaged in the course.
The polished presentation gives you credibility and strengthens your brand. What will separate your courses from others is a culmination of the "little things", like:
Optimal course content display
Intuitive and informative profiles
Clear navigation tracking
Multiple progress status points
Clear success, information, and warning notifications
Simple materials presentation
We have taken care of these (and so much more) for you!
Literally every visual aspect in LD3 has an intentional, thoughtful design so that you and your learners both benefit.
NOTE
If you are currently using LearnDash, then after updating you can activate the new styles by navigating to LEARNDASH LMS > SETTINGS and selecting the LearnDash 3.0 template.
It is time for our expectations of online courses to evolve. The new LearnDash Focus Mode sets the bar higher.
My entire professional career has been in the e-learning industry. It has been thrilling to see the evolution in this space over the years, and I strongly believe this next feature to be the new direction for online course delivery.
We spent weeks analyzing every single popular course platform out there, from hosted solutions like Coursera and Teachable to other WordPress LMS plugins. We documented what they were doing right, and compared this against today's e-learning trends. Through this research we found a tremendous opportunity area that everyone has been missing.
The result?
A dedicated virtual learning environment that is unmatched across the e-learning industry. Your learners will love it (and it will make you look really good).
Introducing LearnDash Focus Mode!
By simply activating a single setting you enable this distraction-free experience that looks great and is easy to use. LearnDash Focus Mode has been specifically designed to help increase both learner retention and course completion rates.
And given the ever increasing role that mobile learning has in online education, we took the time to make sure that your courses look just as good on mobile devices – giving your learners a consistent experience no matter how they decide to access your content.
Your learners can start the course on their laptop and pick-up where they left off on their phone. Your content will continue to shine because of the LearnDash Focus Mode delivery method.
But it's more than just optimal content delivery, the user-experience of Focus Mode is on another level. Your learners can jump in-and-out of Focus Mode for an enjoyable and seamless course experience.
NOTE
We even made sure that the LearnDash Focus Mode works with your favorite WordPress page builders, such as Elementor and BeaverBuilder!
Best of all, you can customize everything to match your brand!
Your courses are an extension of you and your brand, we get that. You will be happy to know that you can customize Focus Mode so that it fits right into your business!
Oh, and your styling changes don't just impact Focus Mode, they will apply to every LearnDash template.
This includes the content table, progress bars, course navigation, Profiles, certificate downloads, and more!
Choose your colors, upload a logo, and in minutes you have a branded learning experience. No developer needed. 😉
We didn't just focus on the course experience, but also the process involved with getting to the course.
The WordPress plugin and theme ecosystem make it incredibly well-suited for online learning. Though despite all of the advantages to WordPress, there are still some pain-points.
One of those obstacles can be user registration and login. We have taken care of this in LD3 with a better login and registration process. If you prefer to use the LearnDash login & registration capabilities, then users will get the following experience:
A simple, straight-forward method for logging into your site (or registering) to take a course. You can customize the colors and logo for this as well so that you present a consistent user-experience.
The learner experience in LD3 is on another level, and so too is the course creation process!
When we started the LD3 journey we reached out to you, our customers, to hear exactly what areas you thought could be improved with LearnDash. A huge thank-you to all of you who jumped on the phone with us!
We didn't want the new LearnDash interface to just be good. We wanted it to be the best, so we brought in the best UX/UI designers out there: 10up.
They took your feedback and used it to shape the entire admin experience of LearnDash.
While almost all of the settings have been reorganized and updated with more contextual information, the most obvious changes come to the course and quiz creation process. We have rewritten our course and quiz builders so that they are not only the most advanced on the market, but very easy to use.
Drag, Drop, and Move-on
The clean interface of the LD3 course builder will have you spinning-up courses in minutes. If you have never created an online course before, then our course building experience will have you feeling like pro in no time!
Reuse Your Content
LearnDash is the only course builder that allows you to re-use your existing course content. No need to continually copy lessons or quizzes just to use them in other courses. Just select what you need and drag it over.
Add Lessons, Topics, and Quizzes with Ease
The LearnDash course builder has many layers. This gives you the ability to add depth to your course content in ways that many platforms overlook.
Divide Course Content into Sections
A LearnDash course has always had lessons, topics, and quizzes. In LD3 you now have the option to further organize your course by dividing your lessons up into sections.
The most advanced quizzing engine just got even better!
Assessments play a core part in online courses. If your quizzing capabilities are limited then so too is your course. But what good are advanced quiz settings if you don't know how to use them?
The LearnDash quiz capabilities are in a class of their own, but your feedback rightfully pointed out that using these features needed to be easier. The new LearnDash quiz builder is the result of this feedback!
Drag & Drop Quiz Builder
Once you use the course builder, you will know immediately how to use the quiz builder in LearnDash as the interface is exactly the same – significantly decreasing the learning curve!
Reuse Questions from the Question Bank
Just like the course builder allows you to re-use lessons, the quiz builder allows you to re-use questions. But if you need to create new questions then don't worry, we have your back!
Create Questions Directly in the Builder
You can now quickly add new questions and configure their settings directly in the builder! First you select your desired question type:
Once your question type is selected, the available settings will adjust and you can begin configuring the question!
When your question is complete, then you can add some optional results messages before moving onto the next one!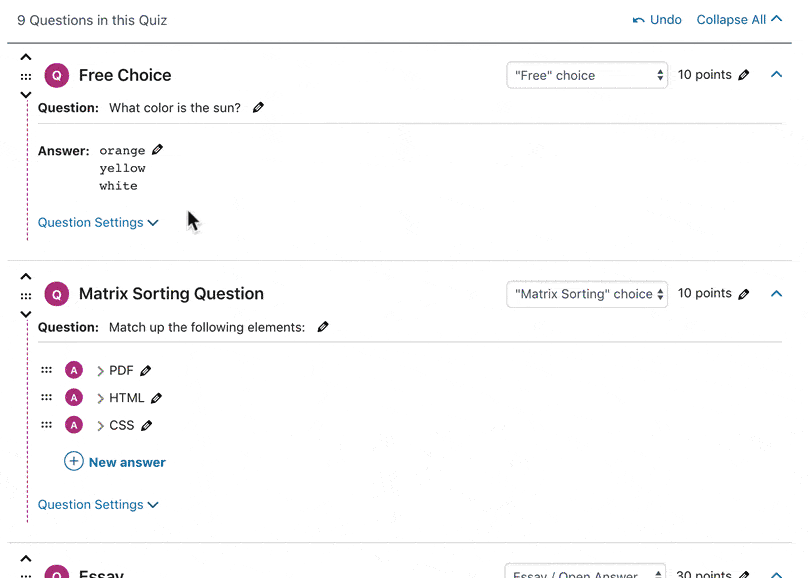 Edit Existing Questions with Ease
Need to change something in one of your questions? No problem, the Quiz Builder makes this a breeze!
And that's just scratching the surface…
There is so much you can do in the quiz builder that I could write an entire article on it alone. The bottom-line is that you have an extremely powerful, yet intuitive quiz engine at your fingertips!
We want you to start enjoying all of what LD3 has to offer as quick as possible. Our LearnDash Bootcamp and new documentation can help you do just that!
Whether you are a seasoned LearnDash veteran or just starting today, you will need to come up to speed with the core functionality in LD3. Fear not friends, we have you covered!
Under LEARNDASH LMS > OVERVIEW you will find the LearnDash Bootcamp, quick and direct access to tutorials and key help articles so that you can get up and running!
That's right, help is available directly within the software!
Below the LearnDash Bootcamp (which can be hidden if desired) you will find helpful articles, news, and access to LearnDash documentation.
Speaking of documentation…
Something that is often overlooked when doing an update as big as LD3 is that immediately all of the documentation is out-of-date. The process of updating everything is a huge undertaking.
Personally, I find most software documentation to have a poor user experience. Often these sites are just a bunch of articles thrown onto a page with little to no formatting. As great as LD3 is, I didn't want it to fall short because our help docs weren't up to that same standard of excellence.
To bring you this new standard, we brought in LearnDash power-user (and all around great guy) Dave Warfel to re-design and re-write the LearnDash documentation.
He has an incredible talent for communication, and this is reflected in the amount of detail in our help docs. Seriously, go check it out →
LearnDash is not possible without you!
We wouldn't be here if you all didn't trust LearnDash as your WordPress LMS provider. I am continually amazed at the courses you create and ideas you share. Thank you for choosing us and for making LearnDash what it is today!
Additionally, I want to take a quick moment to thank the talented folks who contributed to LD3 over these months:
10up for their UI/UX expertise
3.7Designs for their innovative (and downright incredible) designs
Dave Warfel for his amazing documentation
Joe Casabona for creating the LearnDash Bootcamp
Muhammad Muhsin for helping to further customize the new builders
LD3 beta testers for helping us get LD3 ready for launch
And a shout-out to our core devs for their continued effort and dedication
Ready to level-up your online courses?
If you currently have a valid LearnDash license then you can update from your dashboard to get access to LD3 today.
Not a LearnDash user yet? What are you waiting for? JOIN US!
ONE MORE THING…
It doesn't end with LD3. Now that it is released, we have a number of additional updates that will be coming in the near-future! Join the LearnDash Facebook group where we often share this news in advance!
Don't Miss Out!
Keep up with the latest LearnDash tips, e-learning trends, webinars, and more!