Certificate Builder Has Arrived!
The easiest, most flexible course certificate creation tool available on the market!
We know that when you selected LearnDash for your online courses, you did so in order to have access the best of e-learning innovation. Which is why today I am excited to tell you about the latest functionality that you now have at your fingertips!
Today I am pleased to announce the release of the LearnDash certificate builder. This is the new gold standard in online certificate building that is simply unmatched in the e-learning ecosystem.
The coolest part? This new feature is a direct result of the ideas you have shared with us! It is truly a product of YOU! 🙂
Build your certificates at the speed of thought!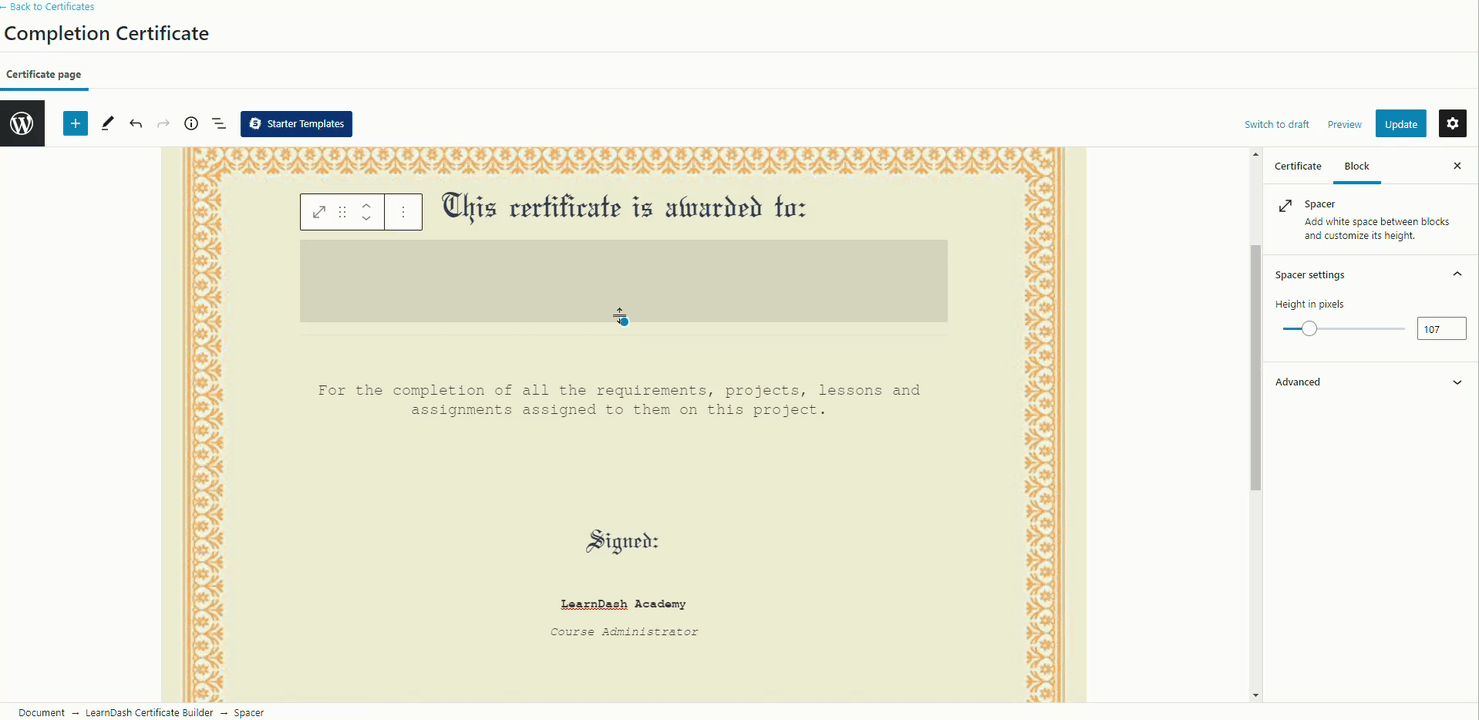 The new LearnDash certificate builder makes it easy to build the certificate at the speed of thought as you use the tools that you already know to create it! That's right, you create your course certificate using the Gutenberg editor, directly in WordPress.
Some highlights of the Certificate Builder:
Complete design freedom — upload beautiful background images and match them perfectly with your existing brand design.
Block based certificate building — by utilizing the Gutenberg WordPress block editor building your certificates is an intuitive point & click process.
Live preview option to see exactly what your certificate will look like to your learners.
Use all your favorite features of the WordPress block editor, including alignment to easily align certificate text in seconds.
Backwards compatible so that your existing certificates will not be impacted.
Getting started with the Certificate Builder is easy!
In order to ensure backwards compatibility, and to keep the size of LearnDash as small as possible, we have initially released the new certificate builder as an add-on due to the large size of PDF generation libraries (eventually this will be merged into LearnDash core).
This makes getting started a super-simple process!
Navigate to LEARNDASH LMS > ADDONS
Search for Certificate Builder
Click Install (wait for the add-on to install)
Click Activate
NOTE: An active LearnDash license is required in order to access. Get yours today!
You are all set!
Do not worry, your existing certificates will not be impacted!
The new builder is available under LEARNDASH LMS > CERTIFICATES
Just click the "Use the certificate builder" button. We outline exactly how to use this functionality in our support documentation.
Take the certificate builder for a spin and let us know what you think, and stay tuned for another exciting announcement in the near future!
Questions? We can answer those! 🙂
We know that you are eager to get started, and you probably have some questions before you do. Below are the most common ones that came up in our Facebook Group. Of course if you have any other questions, then feel free to leave one in a comment below!
Q: Will my existing certificates be impacted?
A: No, your existing certificates will not be impacted. Since we are rolling this functionality out first as an add-on, it means that the legacy method for certificate creation still exists and therefore will not change.
Q: Why do I have to install an add-on?
A: For backwards compatibility and to keep the plugin size as small as possible we have initially released the certificate builder as an add-on due to the large size of PDF generation libraries. Eventually this will be merged into LearnDash core.
Q: Can I build certificates using Elementor, or another page builder? 
A: No, the certificate builder only works with the default WordPress Gutenberg block editor, maximizing its compatibility and ease-of-use. We chose not to make a core feature of LearnDash reliant on a third-party plugin, such as a page builder.
Q: I don't see the add-on, how do I get it to appear?
A: First, you need an active LearnDash license. If you have that installed and activated, then click on the Check Again button at the top right of the screen under LEARNDASH LMS > ADD-ONS. If it does not appear, try clicking the "Third Party" link on the add-ons page, then click back to "LearnDash" and click the Check Again button.
Don't Miss Out!
Keep up with the latest LearnDash tips, e-learning trends, webinars, and more!