3 LearnDash Enhancements (and a Bonus!)
We are well on our way into the new year and today I am pleased to share with you some enhancements we have been working on over the past couple months designed to improve your user experience with LearnDash.
These improvements are the direct result of feedback you all have submitted. We think you will like the added convenience that they provide.
This is going to be a big year, least of which because we are working on LearnDash 3.0 – but more on that later! 😉
For now, let's have a look at what is new in the latest update…
Pagination of Lessons, Widgets, and Profile

One major trend in e-learning is micro-content, something many of our updates take into account. This particular feature is no different.
You see, with micro-content you often end up with many lessons. Currently, all these lessons display on the course page or in the Course Navigation widget. If you have 50 lessons, they all display.
Well, not anymore (if you don't want them to)!
If you have a course with 50 lessons then you can use the new pagination feature so that only a certain number of lessons display at a time, resulting in a cleaner and more user friendly experience for your learners.
Whatever number of lessons you decide to display for the course content will also apply to the Course Navigation widget so that it too will show a condensed lesson list.
Taking it one step further, we added this pagination component to the LearnDash Profile as well. This is particularly useful if your learners are enrolled into a lot courses.
Single Click Add-On Access & Updates
LearnDash has a large variety of free add-ons available. They are great for extending functionality and connecting to other popular solutions.
While these add-ons offer a lot of flexibility, we were unhappy with the process for using these add-ons as it involved visiting multiple pages for downloading, uploading, and activating.
Well I have good news. This process is a thing of the past as we now have an Add-Ons management dashboard! This can be accessed from the LearnDash menu options.
On this page you will have a consolidated interface for all of our free integrations. We also made it possible to quickly locate free 3rd party LearnDash plugins that exist on WordPress.org.
What this means is that if you need to connect to WooCommerce then you just need to go to the add-ons page, click install, and activate. Everything you need is literally just a click away!
Whenever there is an update to an add-on you will be notified from the updates menu.
The add-ons menu becomes available as soon as you enter valid licence credentials in your settings.
This is just the beginning for this feature as we have plans to expand upon it over time. We are always interested in your ideas as well so don't hesitate to let us know!
BONUS: Restrict Content Pro Integration!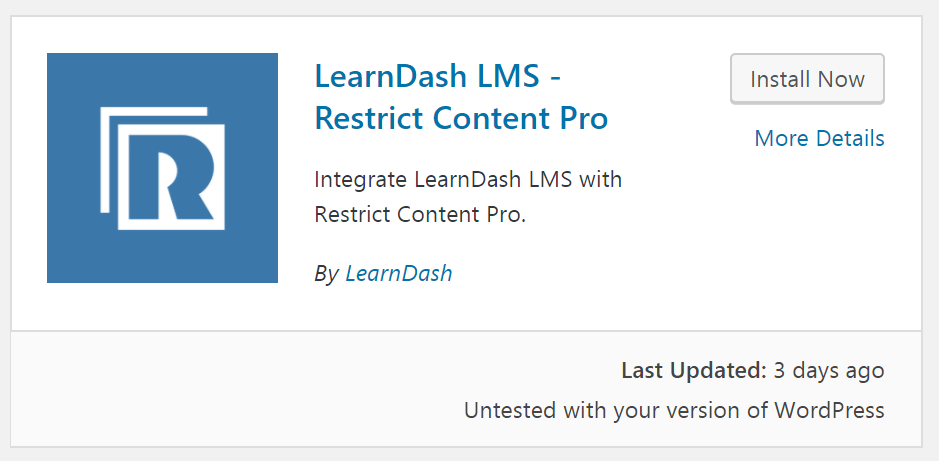 As promised, this update comes with a little added bonus! 🙂
I am pleased to let you know that LearnDash now has an official integration with the popular Restrict Content Pro (RCP) membership plugin!
If you are currently using RCP for managing your memberships, then just install LearnDash and use the new add-ons page to add the free integration. Once activated you will be able to map LearnDash courses to various membership levels for your users!
Not only will users be automatically enrolled, if you are using subscription billing, then when they cancel payment they will be automatically removed from the course as well!
Simplified Language Management (and WPML Compliance)
Translation Settings
LearnDash is being used in hundreds of countries and dozens of languages all over the world. While we include a number of user-donated translations, we wanted to make it easier for you to modify these files, or even add your own.
Under LEARNDASH LMS > SETTINGS, you will now find a Translations tab. Here you can quickly access the language files. Our translation API (powered by Glotpress) will automatically pull in the language files so that they match your WordPress installation's language.
If you ever wish to modify or add a translation then you can now do so using popular programs like Poedit or the Loco Translate plugin.
WPML Compliance
We also have been hard at work to make LearnDash officially WPML compliant. We have done everything on our end and now their team is administering the final review. This means that WPML can be used on every aspect of LearnDash – from course content to individual quiz questions!
For a full list of the updates in this version of LearnDash, please see the changelog.
All of this new functionality is available for you today in LearnDash v2.5.5.
The year of LearnDash Version 3.0
We hinted at it last year, but 2018 is going to be big year for LearnDash as we are steadily working towards a 3.0 version.
As we work towards that release we will be putting out steady improvements and enhancements to the core functionality. In addition, you can expect new (and updated) integrations.
The idea with these updates and the eventual 3.0 release is to refine and polish what we do best, but also will have one particular feature that will make courses on LearnDash stand out from any other course platform out there!
Thank you again for making LearnDash an integral part of your learning program!
Until next time!
Not using LearnDash? Join us today and begin creating impressive online courses!
Don't Miss Out!
Keep up with the latest LearnDash tips, e-learning trends, webinars, and more!