How To Create Custom Lesson Layouts for Your LearnDash Courses
Most people want to create an online course that is not only useful, but that is also visually appealing. In fact, most of the time visual components can help to make your course more effective.
The good news is that using a program like LearnDash, adding your own unique "flavor" to your courses is quite easy given the flexibility of WordPress.
With WordPress, it's simple to add media, create various layouts, implement buttons, dynamic text, and so on.
But if you're interested in creating a truly custom visual component to your course content, then we strongly recommend you use Visual Composer by WPBakery.
If you're not familiar with Visual Composer, it is drag-and-drop page builder for WordPress with both front-end and back-end editors. Simply put, if you want to create a professional layout for your lessons, then Visual Composer is the way to go.
Using Visual Composer and LearnDash is Easy
When you install and activate Visual Composer, you will first need to go to SETTINGS > VISUAL COMPOSER. On this page is where you can select to apply Visual Composer to LearnDash custom post types (Courses, Lessons, Topics, Quizzes, etc.). Once you select these and save, you're ready to get started.
Navigate to an existing LearnDash lesson (or create a new one if you don't have any yet). You will notice two new ways to edit your content: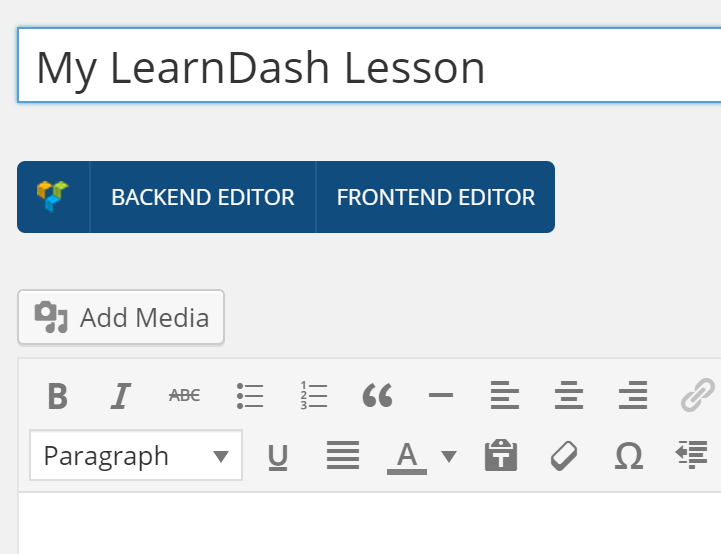 You can use either editor. I went ahead and selected the front-end editor and was taken to a page that contained the following:
As you can see, I am presented with a variety of potential layouts, making it extremely easy to create a visually attractive LearnDash lesson with the click of the button.
Once you select your layout, all you need to do is being adding your content, as shown below:
Should You Use Visual Composer with LearnDash?
The answer to this really depends. If your courses are primarily video driven, you might still get some benefit out of  using Visual Composer, but probably not as much compared to courses that have a multiple course materials (text, audio, video, images, etc.).
Also, it's important to keep in mind that while Visual Composer is pretty simple to use, you'll have to get used to it first. As with most software, there is a bit of a learning curve at first. If your project is on a tight timeline, then taking on an extra piece of software might not be a possibility.
With these things in mind, I still recommend Visual Composer for LearnDash users who want to get a little more creative with the way they present the course content. The screenshots included in this article are just the tip of the iceberg when it comes to what Visual Composer allows you to add to your Lessons.
Visual Composer is available for purchase on CodeCanyon.
Don't Miss Out!
Keep up with the latest LearnDash tips, e-learning trends, webinars, and more!